13
All-Weather Turf Fields
500
Seat Championship Field

Built for the Ultimate Soccer Experience
Thoughtfully designed with event-success amenities. Check out our quick intro video below.
Synthetic Turf Fields
CCP is home to 13 all-weather synthetic turf fields with ample warm-up space included in the design of each field or quad, providing more than 1.2 million square feet of playing space. The complex's RamTurf has a denser, thicker fiber than previous generations of synthetic turf that has resulted in a truer ball roll and natural bounce. That properly weighted pass played down the line to a forward running on to the ball will stay in bounds – as it should – rewarding a player's distribution skill set.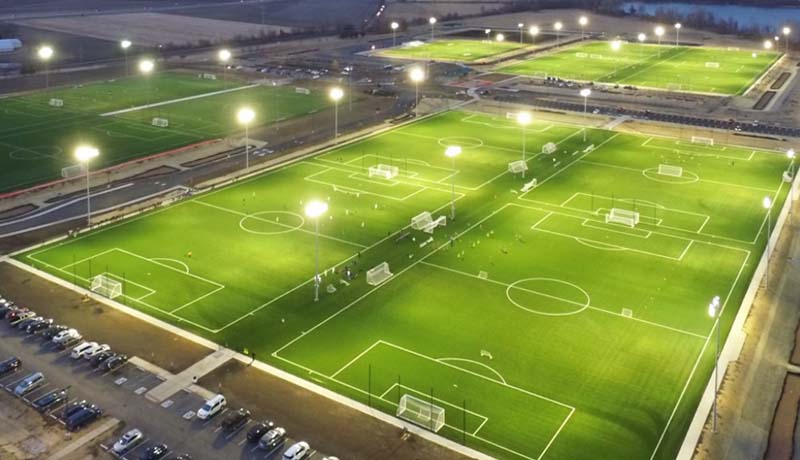 Bluemuda Super Pitch
A testament to the purist elements of the game, our Bluemuda natural grass pitch spreads out over 120 yards by 115 yards. This highly versatile space is ideal for creative offerings in training and events or for match play that wants to be on freshly cut quality grass at just one-inch in height! The Bluemuda field consists of two varieties of grass – Bermuda, a warm-season grass, and Kentucky Bluegrass, a cool-season grass. The blended combination excels in the climate transition zone of the country enabling a healthier, stronger strand of grass throughout the year amidst high heat or cool weather patterns.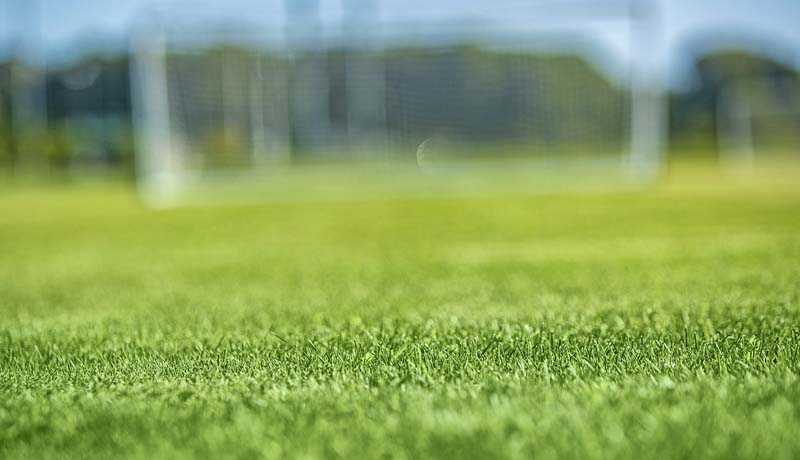 Championship Field
Designed and built with the "big games" in mind, the Championship Field provides amenities for players and fans alike with permanent elevated seating for 500 with live PA sound system, electronic scoreboard with customizable team names and dedicated fiber for livestreaming of matches. Space for additional seating and/or hospitality tents is available.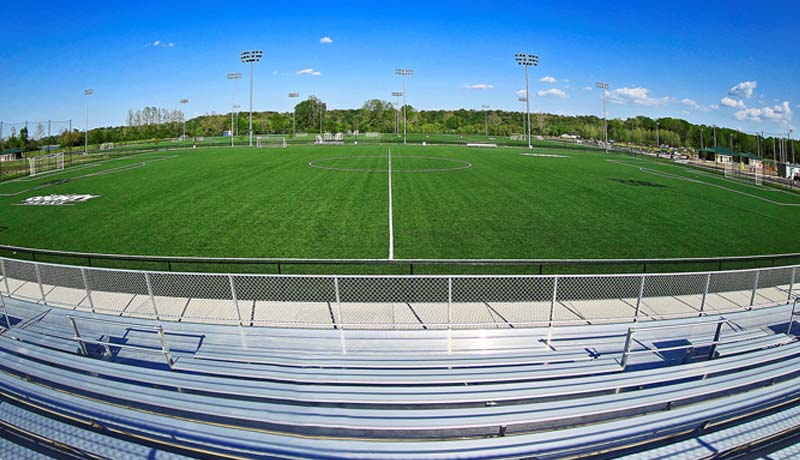 Central Village:
Vendor Areas & Amenities

Located in the center of the complex with a 360-degree view of the 110 acres that makes up CCP, the Central Village is home to concessions, restrooms, a dining patio, soccer sculptures and an expansive concrete vendor area with dedicated Wi-Fi and electric for event merchandisers to provide amenities from. This gathering space is the hub for event-weekend activities for visitors, players and coaches alike and will house our forthcoming operations building as well. Don't forget to get your picture taken by the complex monument to mark your trip to CCP Soccer Complex!

Finding Your Field
Each of the complex's four designated quad areas are designated by color coding of red-, yellow-, green- and gray-wayfinding signage that is visible at ground level and elevated on lighting poles throughout the complex to make getting you and your family to your parking lot and field easy and safe. The wayfinding visuals are highlighted by field number signage 30-feet up on each and every athletic field light pole in the complex with each sign at 3.5' in diameter. Two entrances and exits (North and South) provide for smooth traffic flow in and out of complex.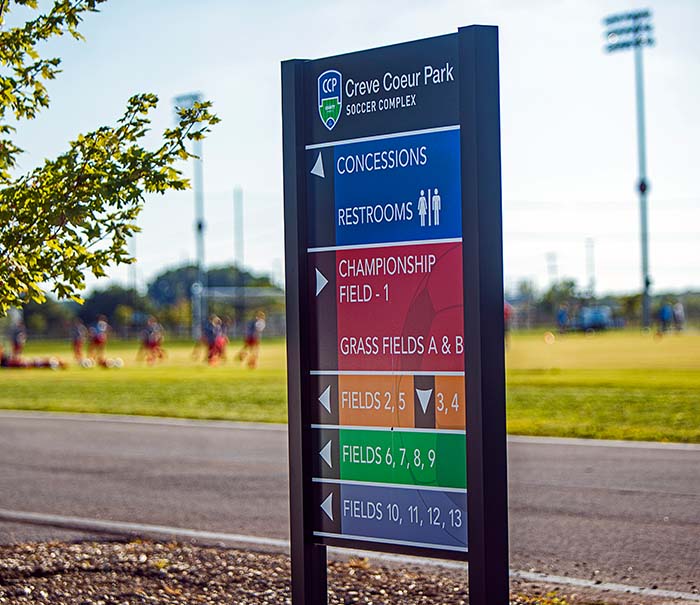 ---
The Athlete & Fan Experience
Central Location – Saint Louis
St. Louis' central location within the Midwest makes it a convenient destination for athletes from across the country. Getting to and navigating around St. Louis is simple and manageable with an international airport, five major interstates and light rail available.

The complex itself is centrally located within the St. Louis metro area on the edge of Creve Coeur Lake. Miles of jogging and walking trail surround the complex and lake, providing visitors a variety of recreational opportunities on and off the water.
Creve Coeur Park Lake
Rent a kayak, paddleboard or canoe and take in the majestic Creve Coeur Lake and its park surroundings on the eastern edge of the CCP complex. The largest naturally formed lake in Missouri, Creve Coeur Lake affords an abundance of recreation opportunities on land and water inside of St. Louis County's largest park. Rowing teams still can be found on the lake that was the host site of the 1904 Olympic Games' rowing competition. In addition to water activities, an asphalt running/bike trail winds its way through the soccer complex and around the lake for a 5.7 mile loop with additional connecting trail if you are still going strong
Westport Plaza
The Westport Plaza area is ideal for your event headquarters. Located less than 15 minutes from the fields, it encompasses a wide selection of hotels, restaurants, attractions and shops. There are more than 3,500 double/double hotel rooms within a 30-minute drive of the complex, allowing players, coaches and families to spend less time traveling to and from games and more time enjoying their stay. In addition, our world-class Saint Louis Zoo, History Museum, Art Museum and Saint Louis Science Center are all FREE, family-friendly attractions located within a 30-minute drive of any team hotel.